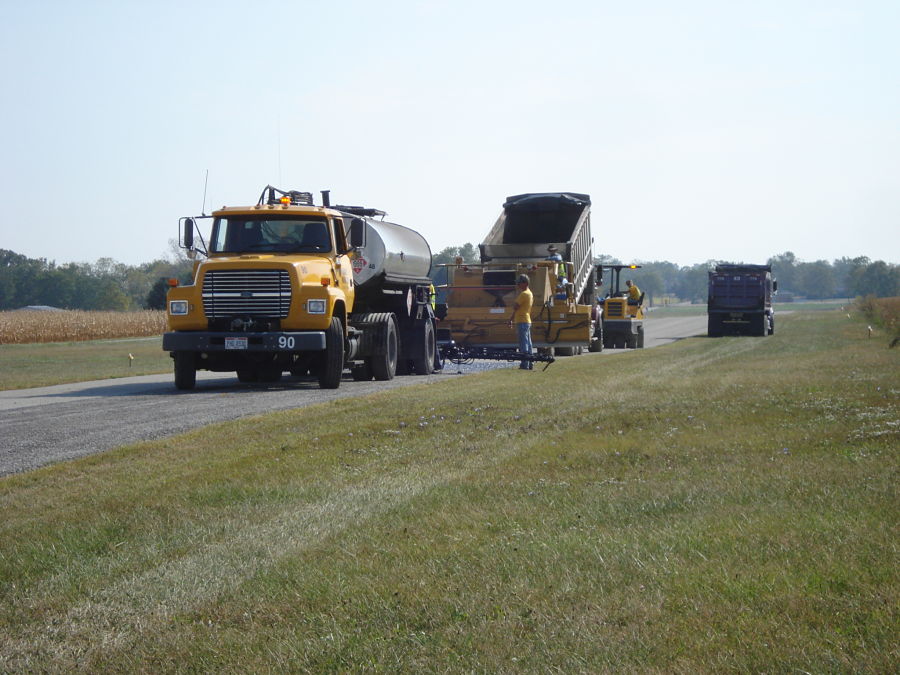 Chip-n-seal is another option for new construction, or as a very effective maintenance layer for older asphalt. Good uses for chip-n-seal include: farms, long lanes, service drives, township roads, cemeteries & parks. Wagner Paving has recently updated our chip-n-seal equipment so that we are able to provide a 20 ft wide full seal application with no seam.
Many of our customers prefer the natural look of chip-n-seal over the look of asphalt. There are several different types of liquid asphalt and stone size which can be used in this process. The different liquids will look and act differently over the lifetime of the surface. Please call us to see if chip-n-seal is a good choice for your application.
In the case of old cracked asphalt, which is on a stable base, chip-n-seal can be used to seal and fill the cracks before placing an asphalt overlay. This process acts as a water barrier, and will not slide like Petromat. Our customers have been very pleased with the results of this process, which is referred to as a chip seal interlayer.
Fog Seal
Studies have shown that a Fog Seal over Chip Seal provides many benefits. When properly applied, a Fog Seal is proven to offer all of the following advantages:
Reduced claims from loose chips
Increased embedment of cover material
Decreased snowplow damage
Locks down marginally embedded chips
Reduced raveling
Prolongs the service life
Improved pavement marking visibility
Appearance preferred by traveling public